2014 Dodge
Challenger
2014 Chevy
Camaro
18 city/27 highway
MPG
17 city/28 highway
16.2 cu. ft.
Cargo Capacity
11.3 cu. ft.
107.7 cu. ft.
Interior Volume
93 cu. ft.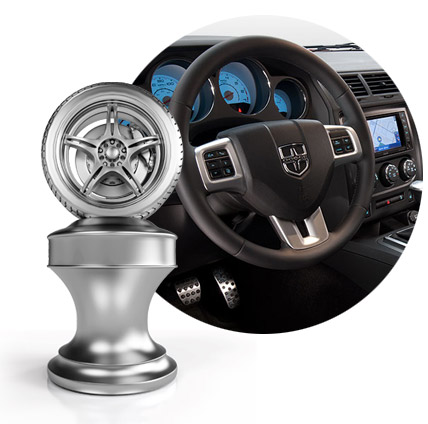 2014 Dodge Challenger vs. 2014 Chevy Camaro
Muscle cars traditionally embody what "car people" look for in their vehicles. While this segment of the automotive industry features a small pocket of outstanding vehicles, the Dodge Challenger and Chevy Camaro have long been among the most prominent names among pony cars.

For the 2014 model year, both models once again are competing for the top spot in the segment. To help car shoppers narrow their search and determine which pony car is right for them, we'll compare the 2014 Dodge Challenger vs. 2014 Chevy Camaro to find out which car reigns supreme for 2014.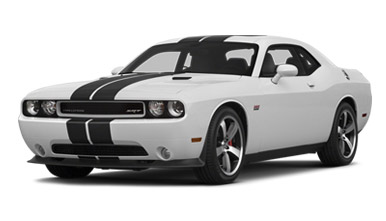 What powers these pony cars?
The 2014 Dodge Challenger comes with three available engines, but we'll touch on the two most popular configurations. The base Mustang SXT is fitted with a 3.6-liter V-6 that makes 305 horsepower and 268 pound-feet of torque. For more powerful performance, many drivers upgrade to the Dodge Challenger R/T that packs a 5.7-liter V-8 that generates 376 horsepower and 410 pound-feet.

The Camaro has four available engines, two of which compete directly with the Challenger's. The base model is powered by a 323-horsepower 3.6-liter V-6 while the Camaro SS is fitted with a 6.2-liter V-8 that yields 426 horsepower and 420 pound-feet of torque. While power stats are slightly higher in the Camaro, the Challenger is the more fuel-efficient of the two models.
Why Choose the Challenger?
The 2014 Dodge Challenger perfectly blends throwback styling with modern performance and features. The aggressive exterior blends the best elements of the contemporary design and old-school style to appeal to a diverse group of drivers. While the Challenger's competition continues to stick to its traditional mold, Dodge went out of its way to create a muscle car with standout styling.

Perhaps the biggest advantage of the 2014 Dodge Challenger over the 2014 Chevy Camaro is its overall comfort and space. The Challenger opens up with a spacious backseat that allows four adult passengers to fit comfortably, making it a great option for daily commutes while also feeling plenty comfortable on the track. Test drive the 2014 Dodge Challenger and find out how this throwback puts other pony cars in their place.